Careers with drainex
DraineX is committed to providing the highest standard of
service to all of our customers and this means that we need
the very best engineers
Careers
The reason we are able to provide a high standard of drainage services across London, Surrey, Kent, East Sussex and West Sussex is because we have a very strong team at DraineX.
This includes our engineers who come to your home or property but we also have many people in other roles at the company, all of whom play their part in ensuring you receive the best standard of service and support at all times.
DraineX

provides the highest standard of service
As our reputation grows, alongside demand for our services, we are always looking to bring new engineers into the company. Our engineers are skilled and fully trained, and have access to a vehicle fitted with the very best equipment.
DraineX is committed to providing the highest standard of service to all of our customers and this means that we need the very best engineers. If you are looking for a career with a great drainage company that allows you to grow, develop and prosper, please get in touch with DraineX and we'll see if we can help you develop a career.
A lot of hard work and effort goes into serving our customers
Of course, it is our backroom team that provides the platform for our engineers to help our clients, and this is another area where you can develop a career with DraineX.
As our business grows and more clients look for drain services, we need more people in our office, ensuring everything runs smoothly and that we attend to all of your needs.
If you are interested in developing your career along these lines, get in touch with DraineX and we'll see how we can help. Environmental Solutions.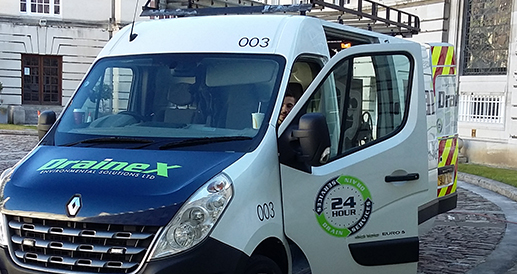 Get in touch with DraineX about career opportunities by visiting our contact page or phone us on 0800 622 6064.