DOMESTIC SERVICES
If you want peace of mind in dealing with domestic
drainage issues, be sure to call on DraineX
Domestic Services
Taking good care of your home is very important to most people and it is helpful to have a range of skills that allow you to take care of certain tasks and jobs. However, there will be jobs or repair work that should be left to the professionals and this is definitely the case with most drainage solutions.
At DraineX, we've seen many domestic drainage issues and problems over the years and we've had to resolve many issues that have been made worse by property owners. We appreciate that people are looking to save money and resolve matters quickly but there are times when you can exacerbate the problem, and this means you end up spending more money and are inconvenienced to a greater extent. If you want peace of mind in dealing with domestic drainage issues, be sure to call on DraineX.
There is no such thing as a small job
At DraineX, we don't really believe in the concept of big jobs and small jobs, we just believe in the importance of jobs and ensuring that your home is properly taken care of. This lies at the heart of our domestic services and when you need peace of mind that your home is in safe hands, make sure you call on a family run firm with 15 years' worth of experience in the drainage industry. When it comes to domestic services in London, Surrey, Kent, West Sussex and East Sussex, we are here to help.
Whether your problem is with your toilet, your sink, your bath, sewers or drains, we are ready to help you out. Our skilled and trained team members take every drain clearance challenge at face value and this means you'll receive the best standard of service at all times. In our 15 years' of service, we've witnessed virtually everything you can see when it comes to blocked drains and this means we can tackle your problems with confidence.
DraineX

Offers a Range of Drainage Services

phone us on

0800 622 6064

DraineX is on hand to help with the following problems or issues, for commercial and domestic clients:
Blockages
Drain Cleaning
Descaling
Root Removal
Excavations
CCTV
Pre-Purchase Surverys
Lining
Drag in Lining
Expoxy Inversion Lining
We provide a range of domestic drainage services
The team at DraineX understands that different domestic clients are looking for different levels of service. This is why we can offer you a service that is tailored towards your needs. If you need one-off assistance such as our reliable blockage removal support, this is something we can help with. However, we can also provide a regular service, cleaning and carrying out maintenance work on a scheduled basis if this of greater benefit to you. Whether you are a reactive or a proactive person, you'll find that DraineX is here to help you find the solution that keeps your home in fantastic condition.
At DraineX, we are keen to work around your schedule and provide you with drain maintenance and clearances that suit your schedule, so if you want to plan ahead, make sure you speak to us and we'll do everything we can to ensure we work around you. DraineX also offers emergency services for domestic clients and our call-out fees are the same regardless of the time of day or night. When it comes to value for money, our domestic clients can rely on us at all times.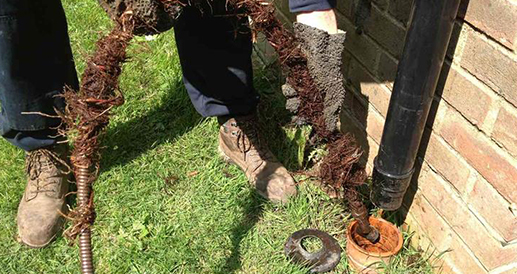 For all your domestic drainage clearance needs, be sure to contact DraineX, which you can do from this site or by calling us on 0800 622 6064.