DraineX NEws and Blog
We keep up to date with regulations surrounding drain
clearances and we like to stay in touch with the latest
products and technological advances in keeping drains clear
Latest News
You may not think too much about drains but you shouldn't be surprised that it is an important area of thought and discussion here at DraineX. We keep up to date with regulations surrounding drain clearances and we like to stay in touch with the latest products and technological advances in keeping drains clear and ensuring homes and commercial properties are kept in great condition.
The fact that we keep in touch with these matters means you don't have to but there may be times when you want to know more about our industry or even us.
You can do so with the DraineX blog, where we promise to provide you with a wide range of information, and not all of it will be boring! We'd like to say that none of it will be boring but we do appreciate that not everyone is as fascinated by drains and how to care for them as much as DraineX.
That's okay though because we provide this service for you, allowing you to focus on things you love or work harder on the core features of your industry.
The DraineX Blog
The DraineX blog is the ideal place to find out about us, our great team, what we are up to and anything of note in the drain clearance sector.
So if you want to know more about the company that clears your drains, this is the place to check out.
Get in touch with DraineX by visiting our contact page or phone us on 0800 622 6064.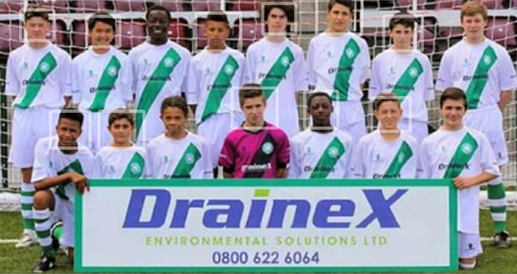 DraineX sponsor the Whyteleafe FC kids football team.