Commercial Services
DraineX provides a reliable range of commercial
services which are amongst the best value for
money drainage options in the South of England
Commercial Services
Commercial firms are always looking for the best value for money and services. DraineX appreciates the difficult position that many companies find themselves in. You want to provide the best standard of service to your clients while enabling your employees the best platform and working environment, but you also need to be aware of costs at all times. This often leads to a compromise that can impact on your business but when it comes to your drainage, there is no room for compromise. This is why DraineX provides a reliable range of commercial services and when you need reliable service at a fair price; our commercial services are amongst the best value for money drainage options in the south of England.
Our services can begin from CCTV surveys and drain inspections, ensuring we know the full extent of issues at your place at work, and we follow through until the final stage of work, including high pressure jet washing and waste separation.
Whether you are looking for emergency support, one-off support or an on-going service that provides you with a maintenance schedule that offers peace of mind and value for money, you'll find that DraineX is the drain specialist company your company can trust.
If you're looking for value for money, reliable service and the less inconvenience for your work as possible, you'll be pleased to hear that we use the very latest in technology. With more than 15 years' of experience in the industry, we offer dependable customer service but with services like CCTV drain surveys, you can be confident that we get to the heart of any issue or problem straight away. This work provides us with High Definition images that ensure we can pinpoint problem areas, allowing our team to provide you with a tailored solution in no time at all. When you need a fast and reliable service to ensure your business carries on as normal, contact DraineX.
DraineX

Offers a Range of Drainage Services

phone us on

0800 622 6064

Other commercial drainage services provided by DraineX include:
SEPTIC TANK WORK
CESSPIT DISPOSAL SERVICES
WASTE INTERCEPTION
WASTER SEPARATION
GREASE TRAPS
PUMP WELLS WORK
DRAIN CLEANSING
DRAIN LINING
DIESEL SPILLAGES
OIL SPILLAGES
DraineX offers reactive and proactive drainage services
It makes sense to get a helping hand for your business and DraineX offers drain maintenance services across London, Surrey, Kent, East Sussex and West Sussex. We are happy to meet with you, discuss your needs and provide you with a drain maintenance schedule that keeps your drains in great condition while allowing your business to operate as normally as possible. In this way, you can provide the best standard of service to your customers while being confident your own needs and requirements are being taken care of.
We also offer drain excavation services if required, which provides a high level of support and care for your business or organisation. We ensure your employees can work safely and efficiently and DraineX works hard to repair cracks, leaks and even light damage in as effective and unobtrusive manner as possible. Advances in technological services ensure DraineX can provide your company with dependable support, no matter the drainage issue you suffer from.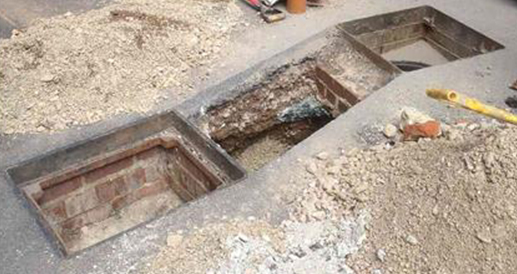 If you are a commercial organisation, you need the best standard of service at all times to ensure you provide your customers and clients with the service they expect and deserve. For the leading commercial drainage services, rely on DraineX, and you can contact us via the site or by calling us on 0800 622 6064.